ADVANCED MATERIALS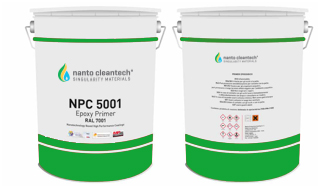 Nanto Cleantech Advanced Materials division combines science and advanced innovation with the objective to create sustainable and durable products. The company invests continuously in enlarging the technology pipeline with new solutions and intellectual properties.
Nanto Cleantech Advanced Additive division designs and supplies corrosion inhibitors with an outstanding range of performances eliminating the use of toxic pigments and hazardous materials.
Nanto Cleantech inorganic corrosion inhibitors are designed to meet specific applications substituting toxic elements with high performance patented material tailored for different resins (alkyd, epoxy, polyurethane) and for different coating application (primer, intermediate, top coat) solvent based, water based and powder based coatings.
Nanto Cleantech Advanced Additive division designs and develops advanced flame retardant polymers based on functionalized nanoclays with a portfolio patent technology.
Nanto Cleantech Advanced Additive division develops masterbatches for anti corrosion, corrosion inhibition and fire retardancy applications tailored for specific polymer systems, thus ensuring dispersion of the functionalized nanoparticles and optimized results.